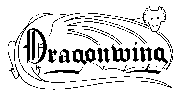 Firepit Bag Set Owner's Manual
Your DRAGONWING firepit bag set is the long-term solution to the problems of how to keep all the essential parts of your firepit together, transport them easily, and keep the rest of your camping gear soot-free. It is designed to accommodate the firepit designed by Flieg Hollander or any similarly dimensioned firepit built on the same plan, such as the Iron Castle firepit or the firepit described our web site at http://midtown.net/dragonwing/col9905.htm
The set consists of three pieces, each made of multiple layers of heavy flame-retardant canvas and ruggedly engineered to give years of service. These pieces are:
A long, slender bag. This is for the tripod, but is big enough for the other long items that go along with a typical firepit-a poker, a pair of tongs, and a set of leg extensions. The bottom of the bag is reinforced with two layers of thirteen-ounce canvas without a bottom seam, giving a total of twenty-six ounces of canvas that the contents will have to chew through before they even make contact with the bag itself. To close this bag, simply fold the end over and tie it with the attached twill tape. This closure system accommodates whatever lengths your tripod legs happen to be.
A small but heavy bag. This one is for the firepit dish itself. We've reinforced the bottom of this with four layers of thirteen-ounce canvas, the same as our prototype bag (which is still in use after ten years of hard service).
A larger, lighter bag. This bag is for the flat grate and grill pieces, but is large enough to accommodate up to four pieces of thin plywood, two feet square, for you to stand the assembled firepit on in areas where dry grass or leaves present a spark hazard. We use thin "door skin" plywood, 1/8" or 3/16" thick, usually available at home improvement centers at reasonable prices.
3/02